Pinatas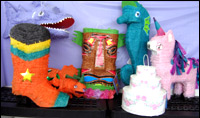 Lots of fun shapes and sizes. Too many styles for picture. Pull string pinatas available. Pinata buster and blindfold also available.
Goodie Bag Loot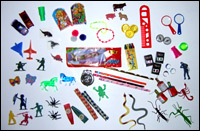 Wide selection of fun items for boys and girls ages five and up.
Plastic Dishes & Glassware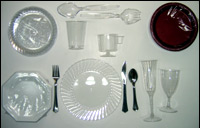 Clear plastic plates, champagne (bowls and flutes), wine, tumblers, jello shots, coffee cups, serving pieces and more. Cutlery in all colors plus "silverware" look. Colored plastic plates are available (limited color selection).